For me, the first day of the Birmingham International Comic Show 2008 started with one hell of a bang! Within 5 minutes of entering the thinktank exhibition area I had dropped over £70 on Graphic novels. Its times like these I'm very grateful for my family's generosity and patience as I stumble my way through the throws of newbie excitement.

My foray into the DCU has been smoother than I initially thought it would be. I have become a student of sorts to Lee whose shear amount of knowledge that at first seemed rather overwhelming, has given me invaluable help on where I should start.

First stop of the day upon arriving was to a mostly mainstream graphic novels stall where I picked up enough material to make the handles on my bag snap. I guess I got a little carried away! It's one of the best things I found about BICS, the ability to browse, touch and just plain SWOON over the talent available. You can't get that kind of experience from a website.

The thing that really made my first comic con so amazing was without a doubt the people. I've never met so many welcoming and friendly folk, even the big professional artists. Phil Winslade for example was the most wonderful person. We had some good chats as he indulged my passion for his art. His wife Pippa showed us photos from a Manga event in Paris they attended and they were just so full of grace you couldn't help but feel charmed in their presence.

The small firm artists and writers were a joy to talk to, every single one of them. Tom McNally from Semiotic Cohesion Comics, complete with an awesome hat and an easy smile, was a huge amount of fun. He signed both my arm and my weekend pass wrist band with a grin I just had to return. While I'm dying to comment on his work, it will have to wait 'til I post a review about all the things I bought. Watch this space!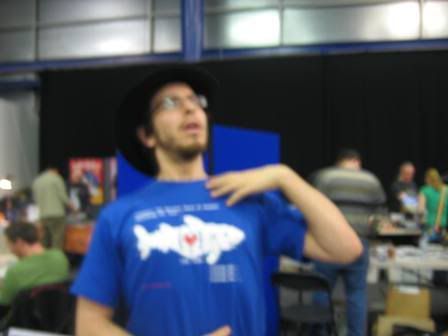 Phillip Spence and Mike Rouse-Deane on the Ninja Bunny table made me smile more than I had in a while. They doodled for me... and on me while we chatted about Pirate Ninja Bunnies.




They also had great hair.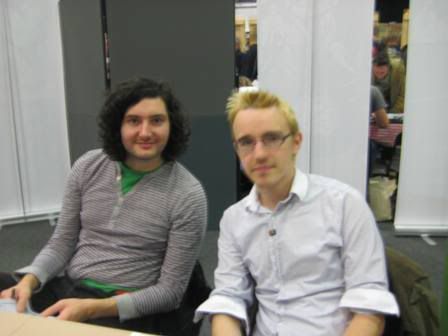 Part 2 coming soon - Hot Dogs and Artists and Cosplayers – Oh My!